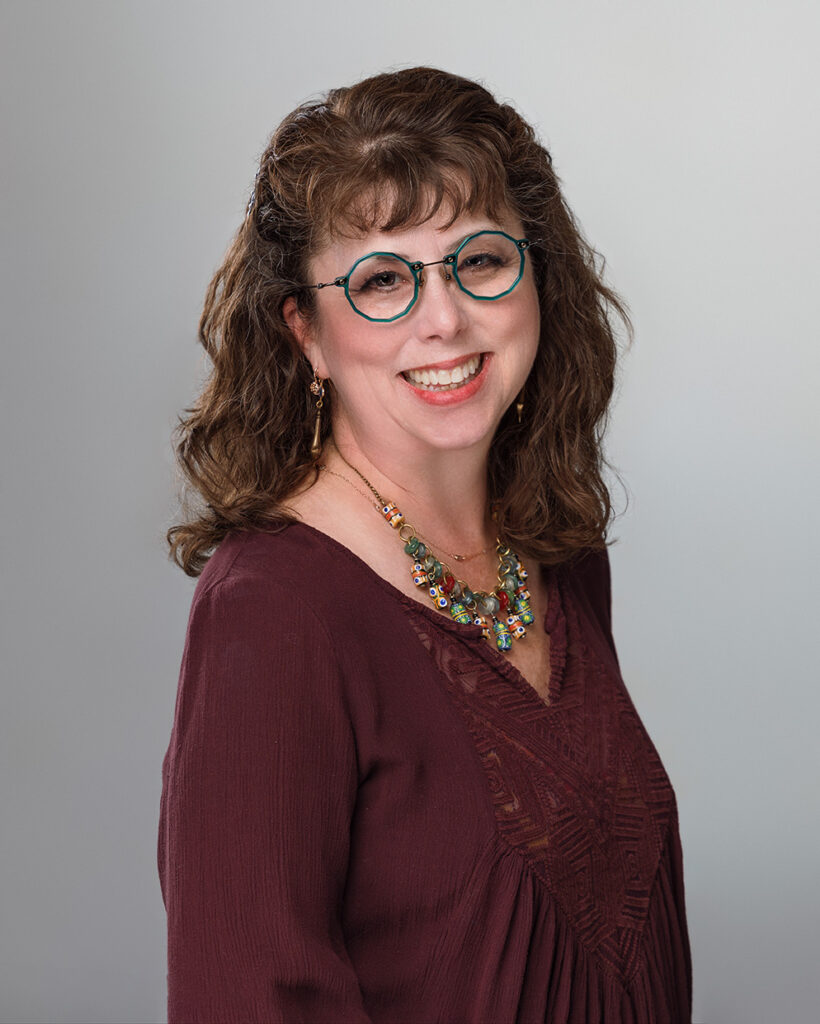 Denise (Pip) Klibanow, LCPC, R-DMT, CFRC
Psychotherapist
Licensed Clinical Professional Counselor
Registered Dance Movement Therapist
Certified First Responder Counselor

847-908-8700 x109
denisek@illuminatingyou.com
Adjustment to Phase of Life Transitions
Anxiety & Stress Management
Borderline Personality Disorder
Deaf & Hard of Hearing folks
Depression and Mood Disorders
Dissociative Disorders/Dissociative
Identity Disorder
First Responders
LGBTQIA+
PTSD, Trauma/Vicarious Trauma
Relationships problems
Denise (Pip) Klibanow has over 30 years of experience surrounding mental health but took a winding road to find her way to clinical work. Her background began in Dance, Theatre of the Deaf, and Performance Art, a colorful path which ultimately led to a passion for working in the mental health field. She received a fellowship in Dance/Movement Therapy which provided a way to weave the threads of her many interests into a new professional tapestry of using somatic expression to help heal mental health traumas.
Denise began her counseling career working in the state psychiatric hospital on the Deaf & Hard of Hearing unit. She continued her focus with the Deaf population in one of Illinois' largest providers of community mental health where she managed group homes for deaf mentally ill adults. Denise has also worked in crisis and critical care within the Sinai health system as an out-patient therapist and Manager of the Psychiatric Triage program. She has spent the last 8 years working in private practice as a therapist and Clinical Supervisor for students and clinicians preparing for licensure – ultimately sewing her various and extensive experiences into the folds of Illuminate Therapy & Wellness.
Denise considers herself a holistic therapist, focusing on the connection between Body, Mind, and Spirit. She uses an integrative approach that incorporates elements of breath & bodywork, Mindfulness, and Dance Movement Therapy, as well as Cognitive Behavioral and insight-oriented interventions tailoring her approach to the specific needs of each individual.
Denise is trained in Dialectical Behavioral Therapy (DBT) and has extensive experience working with individuals with Borderline Personality Disorder (BPD). She has advanced training in working with Dissociative Disorders and recently became a Certified First Responder Counselor. She is fluent in American Sign Language and specializes in working with Deaf & Hard of hearing folks, the LGBTQIA+ community, Trauma and Vicarious Trauma, and life transitions. She works with adults 18 years and older.
Denise is described by her colleagues and clients as a "bright spot". She is genuine, connected, and flexible in her clinical work, allowing her to obtain the trust and confidence from her clients to be vulnerable and engage in the counseling process. Denise blends humor and compassion with her clients, putting them at ease and making them feel heard and valued. She is fondly referred to as "Pip", earning the nickname "Pipsqueak" as a young child for her petite size and then growing into "Pippi Longstocking" for her long red braids and she liked the idea of being the 'strongest girl in the world'! Now as an adult, the braids are gone but the Pip carries on.
Outside of work Denise enjoys horseback riding (although, unlike her namesake, she is unable to lift a horse over her head…or at all for that matter), playing in the garden, caring for the myriad exotic pets in her menagerie, and game nights with friends.
Personal Quote:
I believe that therapy is a journey, a collaborative process between client and clinician. Together, with curiosity and compassion, we explore challenges and successes, roadblocks, and opportunities.  I believe that therapy can be deeply rewarding and transformative and can help individuals reconnect with their wisdom and inner strength. It is a privilege to participate in these journeys with people and I always come away richer for the experience.